Website Builders Collective
Join a growing community of GeneratePress, GenerateBlocks & WordPress users packed with tutorials, templates & more
"When it comes to pixel perfect design, Mike is one of the best out there. His attention to detail is apparent in everything he touches."
– GeneratePress Founder Tom Usborne
Design & build better websites
The Website Builders Collective is a learning community that taps into the full power of GeneratePress & GenerateBlocks. It's a place to help you overcome block editor roadblocks, and give you the tools and support you need to build awesome WordPress websites.
Improve your GeneratePress & GenerateBlocks skills
Learn how to build beautiful, fast, block based websites
Download professional landing page templates
Be part of a growing community of GP & GB users
Content
What you can expect on the inside
GP & GB Website Builds
Complete, start to finish website build tutorials to help you create professional websites.
Template Downloads
Easy to use GeneratePress & GenerateBlocks content and landing page templates.
GP & GB Tutorials
A growing library of videos on using GP & GB more effectively and the latest features.
Tools & Performance
Additional tutorials and tips on WordPress, website performance and plugins.
User Meetup
A community area to meet other GP & GB users, collaborate and help each other out.
Website Showcase
A place to share your latest website projects and get feedback from the community.
Who is it for?
The Collective is perfect if you're…
Ready to learn the ins and outs of GeneratePress & GenerateBlocks
Tired of pagebuilders and want to learn how to recreate your sites with blocks
Having trouble designing and building lightweight, professional websites
Looking for a community of peers you can count on for feedback and support
What's Included Exactly?
Your membership includes…
Start to finish website design and build tutorials
GeneratePress & GenerateBlocks feature videos
GP & GB landing page and content templates
Tips for WordPress, web design and performance
Community interaction with fellow GB & GP users
Daily check-ins by me (Mike) to answer questions
What Will I learn?
A few of the current tutorials available
GeneratePress Dynamic Typography Overview
GeneratePress Global Colors Overview
Intro to the Grid Block & Container Block
Using Archive Templates vs. Query Loops
How to Set Up Your GP & GB Containers
GenerateBlocks Pro Features & Benefits
How to Switch to Local Google Fonts
How to Add a GeneratePress Child Theme
How to Make a Custom 404 Template
Using a Starter Site for New Website Projects
Using Flex to Bottom Align Your Buttons
Coverting Content to GB 1.7 and GB Pro 1.5
Using SVG HTML Icons for Section Dividers
Preloading Responsive Background Images
Using Adobe Fonts (Typekit) with GeneratePress
How to Build a Coming Soon Page
GB Pro Accordion Block & Tabs Block Demo
Building Responsive Comparison Tables
Hooking an Email Signup Form Into Your Blog
Custom Sticky Header & Slideout Menu Demo
Start building better websites today
Access all of the tutorials and templates for only $20/month
Who Are You?
My name is Mike, I design and build websites
I started designing surfboard logos in the early 90's and have been a designer ever since. About 10 years ago I built my first website with WordPress and haven't looked back. These days I split my time building websites for clients, designing for GeneratePress & GenerateBlocks and working on products like this for GP & GB users.
Why did I create the Website Builders Collective?
After the launch of my previous GeneratePress & GenerateBlocks course, I realized that most of the tutorials eventually become obsolete. With GP, GB and WordPress constantly evolving, I thought an ongoing training model would work better than a one time course. This will allow us all to stay on top of the latest GP & GB features and updates.
The GeneratePress community is incredible and growing like crazy. I thought this would be the perfect way to deliver new tutorials, my latest templates and continue to learn together.
If this sounds like something you want to be a part of, sign up and join the fun!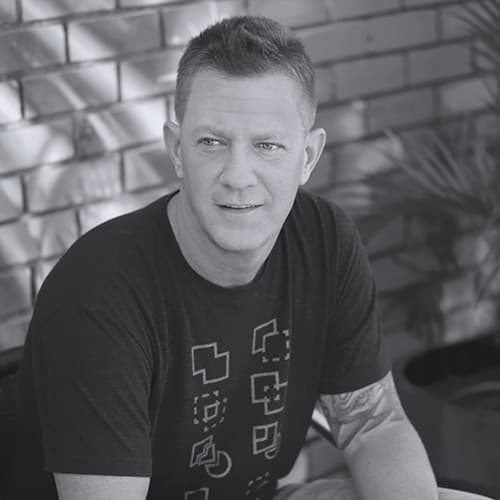 Hello, I'm Mike
Happy Users
Testimonials from previous course members
Mike pulls back the curtain and walks you through his complete process – from wireframing the site pages and blocks, to optimization and testing of the finished product. If you find yourself watching YouTube videos here and there, Mike's course will tick all the boxes for you. The course covers everything from planning your site to setting & styles, elements & headers, designing & building, and more.
– Jim Galiano
My mind is blown. This is the most useful course and information I've found in the 25 years I've been building websites. I've been trying to decide between Astra and/or GeneratePress for about year now, been building in both. I already had a preference to GP. I've spent hours watching this expert and that expert piece together different aspects of use. I already know this is an easier workflow.
– John Addy
I will tell you that your recent GeneratePress course is some of the best training I have ever come across! You are truly gifted at what you do and I commend you for your efforts. I'm only half way halfway through the course but yet I have learned so much. I love your step by step, analytical approach to covering the material. I will definitely be following all of your suggestions moving forward.
– Dean Noland
I want to say how much I enjoyed the course. Up until now, I have used a combination of Astra or GP with Beaver Builder to build sites, but from now on, it will be GP & GB for all new projects. Hats off to you for putting this all together. The course is full of so much helpful info. It will help me be more productive with my time and produce a higher quality of work. Massive thank you from me 🙂
– Rich Flynn
I have learned so much through your course after going through it just once. I will be doing the course over again this week and I'm sure it won't be the last time. This time I will get it! With your help, I will master WordPress, GeneratePress and GenerateBlocks.
– Linda Chartier
Thanks Mike, Great course. After working (struggling) for years with Typo3 and some WP website builder, I learned how much easier and faster it is using GeneratePress. Looking forward to your next courses.
– Matthias Bank
FAQ's
A few questions you may have
If you are a GeneratePress and/or GenerateBlocks user looking to build websites more effectively and sharpen your design skills, the collective may be a great fit. If you have found value in my previous course or YouTube video tutorials you will find value in this community.
The majority of the tutorials and templates will be created with GeneratePress Premium and the Free version of GenerateBlocks. All templates will be built using the WordPress block editor and GenerateBlocks and can be used with any WordPress theme.
Not at all. The tutorials and templates will be built using GeneratePress premium and the block editor along with GenerateBlocks. Any custom CSS or PHP used in the tutorials and templates will be thoroughly explained.
I am mostly thinking of beginner and novice users when creating the tutorials. For example, I will not be making tutorials on topics such as Woo Commerce customization, integrating ACF or a LMS plugin, etc. If you're looking for heavy GP & GB customization this may not be for you. The tutorials will primarily be based on using GP & GB, better design practices and website performance.
My goal is to build the community to a point where I can dedicate most of my time to it. This means I need to generate revenue as I will be doing less client work. I plan to provide way more value than the cost which will keep everyone happy and allow the community to continue to grow. I feel like professional templates, tutorials, resources and community support is well worth $5 a week.
You'll receive a welcome email and receive access to the community and all the resources. Once you are logged in you can view the welcome video explaining all the membership areas and how to navigate them.
The course platform is podia.com which you can access from any device. All of the content will be accessible through your Podia account after signing up.
Absolutely! The templates I create are designed to help you build websites that impress your clients, so you're free to make a copy and customize it to your needs. The only limitation is the templates can not be resold as a similar product.
The checkout uses Stipe for subscription payments. Your membership will be automatically renewed each month for $20 while enrolled in the Website Builders Collective.
All of the tutorials, templates and resources posted by me have a comment section where you can ask questions and leave comments. I log in to answer all comments and questions at least once a day. If at any time the support you require goes beyond the scope included in the membership, I offer premium support services to members.
That's no problem! I want everyone in the collective to feel like they are receiving plenty of value. If at any point you no longer want to be a member you can cancel, there is no commitment.
Of course, you can sign up for a month whenever you like based on how much time you have to be active, or simply to save some money. I have quite a few members who do this and catch up on all the tutorials and templates every couple months.
Start building better websites today
Access all of the tutorials and templates for only $20/month